Follow Your Nose
When you're turned on by your partner's scent, taking a deep whiff of his chest or the back of her neck feels like taking a powerful drug- it's an instant flume ride to bliss, however momentary.
~Elizabeth Svoboda
Every Scent, Fragrance & Perfume we sell is authentic and genuine. No immitations or knock-offs ever! Guaranteed!
From Armani to Yves Saint Laurent. For Men, Women, and Children.
Eve's Body Shop.
"I will only let you touch me if your hands are so full of intention that every brush of your palms feels like you're writing a novel on my skin." ~Azra T "Braille"
---
"Beauty is an ecstacy; it is as simple as hunger. There is really nothing to be said about it. It is like the perfume of a rose; you can smell it and that is all." ~W. Somerset Maugham
---
"Smell is a potent wizard that transports you across thousands of miles and all the years you have lived." ~Helen Keller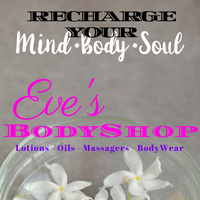 You deserve to spend some time on yourself...
We all lead such hectic and busy lives that it's easy to neglect ourselves. Eve's Bodyshop helps you find the time you need for yourself. Spending just a few minutes a day to recharge your mind, body, and soul, will make a world of difference and you'll be ready to take on the next day. You owe it to yourself, and Eve's Bodyshop has everything you need!
Click here and you'll thank yourself later
Rumor Has It.....
I just found my favorite new lotionS. I had no idea there were so many choices, it's insane.

Geri F.
Eve's discreet packaging made it possible for me to surprise my wife, with a night she never expected and one that I'll never forget.

Michael U.
The Pros & Cons of visiting Eve's

Con: I'm addicted to perfume. Pro: I smell fantastic!

Daisy C.
When I ordered the wrong item, THEY apologized AND sent me a bonus item with my exchange.

Alyssa K.
Classy! Cool! Creative! Even at my age! Thanks Eve!

Marie Y.
They sent my shipment the day I ordered it...FOR FREE!

Rosie O.
Eve's Body Shop is the Garden of Eden.

Mia U.