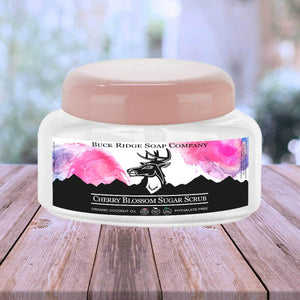 Cherry Blossom Sugar Scrub
Buck Ridge Soap Company
Regular price $12.95 Sale
Cherry Blossom Sugar Scrub is just what you need to exfoliate and rejuvenate your skin. Use it on your whole body, face, hands and even problem areas like heels and elbows to slough off dead skin and leave you feeling fresh and clean. This was a request and the fragrance oil is not safe for ingestion like our others. This is a fragrance oil not a lip scrub flavor oil or natural spice. We do not recommend it for lips but it is safe for the body.
Made with fractionated Organic Coconut Oil, sweet almond oil, vitamin e oil, citric acid, peppermint essential oil, real cocoa, mint chocolate fragrance oil and pure cane sugar for a perfect, all natural blend. 
Vegan. Made in USA. Never animal tested. Large 16 ounce jar. Unlike our other scrubs do NOT use this one on your lips.