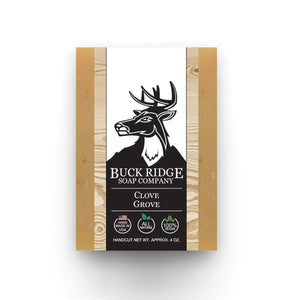 Clove Grove Men's Handmade Soap
Buck Ridge Soap
Clove Grove Men's Handmade Soap is nothing but cloves. Did you know cloves grow on trees? Well, now you know! If you love the scent of pure cloves this soap is for you, it is nothing but powdered cloves and clove essential oils in our natural soap base. This is one of our best men's fragrance soap bars we think. The scent is incredible, especially if you like the scent of cloves!
Clove oil soap is very difficult to make due to the fact that pure clove oil will cause the soap base to harden too quickly if not poured into molds fast enough. This is why you don't find this type of soap everywhere because it is tougher to make than other soap varieties. 
Ingredients: Saponified oils of soybean, olive, coconut & shea butter with powdered clove and clove essential oil.
Handmade in the USA.  Natural Ingredients. No artificial colors. Never animal tested!