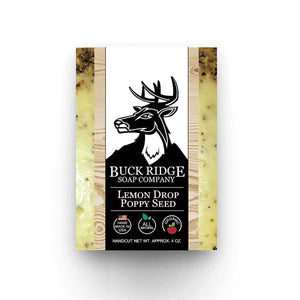 Lemon Drop Poppy Seed Hand Soap
Buck Ridge Soap
Bust that beard with our Beard Buster shaving soap. Contains everything you need for a smooth, refreshing shave without anything artificial it even has organic powdered oats for skin soothing and taking the burn out of your shave. This homemade mens shaving soap is the best bar soap for your beard.
Ingredients: Saponified oils of olive and coconut, shea butter, goat milk, essential oil of lemon with poppy seeds and ground dried lemon peel and yellow pigment.
Handmade in the USA.  Vegan. Natural Ingredients. Never animal tested!
Order 2 bars and automatically save 10%.